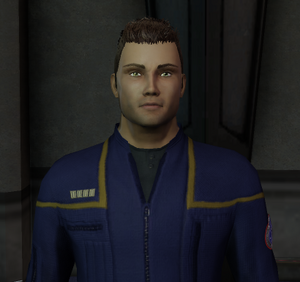 Elias José Medeiros-Lascari, known professionally as Elias Medeiros, was born in Kingsburg, California on August 29th, 2121. Being raised in farm country by a big family with strong roots in Mexican, Portuguese, and Greek heritage instilled a strong work ethic in him. This stubborn determination carried him through various forms of scholastic and athletic achievement. A gifted gymnast, his participation in the sport stunted his growth, leaving him standing at only 5 feet, 2 inches tall (1.57 meters) at full adult height.
History
Medeiros applied for the UESPA Pilot Academy for flight control and systems engineering courses immediately out of high school. Shortly after finishing his four-year certification, Starfleet sought out flight controllers for the new Ganges-class starship, the first United Earth vessel capable of exceeding warp two. Eager to advance his career, and with an impressive academic record under his belt, Medeiros applied for the position. While he didn't get the helm position he wanted, he did manage to land himself a position in the Ganges' engine room as an enlisted EPS control specialist.
Service in Starfleet
After three years of service on Ganges, he signed up for a six-month officer training seminar for enlisted personnel at Starfleet Academy, being commissioned with the rank of Lieutenant upon completing the program. Following his promotion, Medeiros served aboard Intrepid as chief helm officer, and eventually executive officer, under Captain Carlos Ramirez.

At only 32 years of age, Medeiros' career was advancing at a blistering pace. By 2153, he was on a shortlist of executive officer candidates for the NX-02, but Elias was never one to settle for second place. Instead of joining Columbia, he took a year of leave and attended advanced command training courses at Starfleet Academy, earning a promotion to Captain of the Pioneer in 2154. Under Medeiros' command, Pioneer made first contact with several new species, including the Ikaarans and the Bolians.

These achievements didn't go unnoticed by Starfleet. Admiral Gardner contacted Medeiros in March of 2156 with an amazing opportunity -- Captain of Earth's third NX-class ship, Challenger. Never one to look a gift horse in the mouth, he eagerly accepted.

Less than a year into Medeiros' tour of duty on Challenger, the Earth-Romulan War began. Under Medeiros' command, the ship fought in six major engagements over the next two years, all successful, until a fateful warp speed battle on May 2nd, 2159 that left the ship stranded in the 25th century.
Service History
Prior to Challenger's disappearance in 2159, Medeiros' brief career with Starfleet was very illustrious.
Flight Control Certification, United Earth Space Probe Agency (2139-2143)
Systems Engineering Certification, United Earth Space Probe Agency (2139-2143)
EPS Control Specialist, Ganges, Ganges-class frigate (2144-2146)
Graduate, Starfleet Academy Enlisted Officer Training Program (2146)
Chief Flight Controller, Intrepid, Intrepid-class frigate (2147-2151)
Executive Officer, Intrepid, Intrepid-class frigate (2151-2153)
Advanced Command School Graduate, Starfleet Academy (2153-2154)
Commanding Officer, Pioneer, Intrepid-class frigate (2154-2156)
Commanding Officer, Challenger, NX-class cruiser (2156-2159, 2421-present)